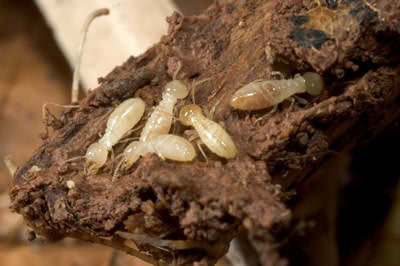 Termites are a type of destructive pest that invade millions of homes and businesses across the country causing damages estimated to be in the billions of dollars annually. Termites are found in 49 of the 50 states. In the Virginia Beach area, homes and other structures are considered at high risk for termite infestations. Since we are located in a region of the country which is considered to be high risk, it is very important to be proactive in protecting your investment from termites.
Why is Professional Termite Inspection and Treatment Important
Most home or business owners don't have the time to do a thorough termite inspection of their property are unaware of what to look for. For example, it may be difficult to tell the difference between a flying ant and a termite swarmer. Incorrect identification can result in not realizing you have a termite infestation until you have a swarm inside or notice damaged wood. By this time, termites have already established a colony feeding on their structure. Detecting activity early in the termite life cycle will greatly reduce the amount of damage caused by a colony.
Bug-Masters is Your Top Choice for Termite Control

At Bug-Masters we've been providing quality termite control solutions since 1990. We're in the field every day inspecting and protecting homes from termites, utilizing techniques and products that have been proven to work well over time in the unique conditions for our area. Jon Tari, owner of Bug-Masters, has been a licensed Wood Destroying Insect Inspector (WDI) since 2005. Jon is also one of the earliest in the pest control industry to have completed the State of Virginia Master Tech continuing education program which has been in existence for 10+ years.
The RIGHT Type of Termite Treatment for Your Unique Conditions
Each property is unique, with individual characteristics that may attract termites and pests, so each home or business will vary in terms of how easy or difficult it will be to treat. Because of this Bug-Masters utilizes an industry leading termite baiting system, as an alternative to liquid termiticide soil barriers, which allows us to custom tailor our treatment to the needs of your specific property.
It is important to us to give you a thorough explanation of all the treatment options that may work for your specific situation, and of course we'll recommend which option we feel will be the most effective and affordable. In some cases a combination of treatment techniques is the best approach.
Schedule a Termite Inspection and Take Preventive Measures BEFORE They Move In.
The video below is an example of a termite infestation in just one small section of a property. You'll see that even in this small portion of building the number of termites is quite large, and it is easy to see how termites can develop into a large problem quickly. Making sure to have a regular termite inspection and treatment will contribute greatly to eliminating the risk of the costly damage that termites can cause to your structure.
Don't Delay! Call Bug-Masters Today at (757) 288-2668 To Schedule A Termite Inspection or Treatment Appointment, Or With Any Questions You May Have. You May Also Contact Us Any Time Using Our Online Form.